The red light therapy is a regenerative medicine treatment that uses different types of light to stimulate new growth of nerves and tissue and help relieve pain. Red light therapy utilizes light emitting diodes, known as LEDs to provide fast results. Because infrared and red diodes appear red when illuminated, it is often called RED LIGHT THERAPY. Scientists and engineers use the highest levels of engineering to produce light therapy devices that are both powerful, safe and effective.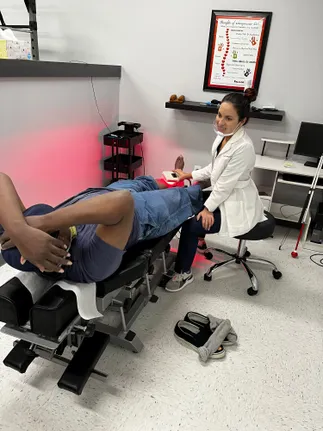 What Causes Neuropathy?
Neuropathy is a condition in which patients feel numbness, tingling, and even pain in the affected area. Neuropathy occurs when the nerves are damaged or destroyed, and cannot send signals to the brain correctly. Therefore, the brain interprets this as tingling or pain even if you are not having contact with anything.
Peripheral neuropathy is the most common type of neuropathy. In this type, the nerves in your extremities are damaged, and people experience sensations of tingling and pain in their hands, feet, and legs. One of the main causes of peripheral neuropathy is nerve damage due to diabetes. Other causes include trauma, autoimmune diseases that attack the nerves like rheumatoid arthritis, and vascular diseases.
How Does Red Light Therapy Relieve Pain?
The red light could stimulate mitochondria in your cells, which produce energy for your cells. Studies have found that Red Light Therapy could stimulate the re-growth of blood vessels, so those treated with Red Light get more blood and oxygen, further promoting healing. Another study found that Red Light Therapy may improve peripheral nerve regeneration, as well as improve function, decrease pain, and increase sensation in treated areas.
Red Light Therapy Treatment

A red LED light is passed over the body area where the patient is experiencing neuropathy pain during the treatment. The amount of time your skin is exposed to the light is up to Dr. Santiago clinician's judgment, but there is no risk of being burned by the light because it is not UV light or the kind of light from tanning booths that can damage the skin.
RED LIGHT THERAPY IS ADVANTAGEOUS OVER OTHER NEUROPATHY TREATMENTS BECAUSE RED LIGHT IS NONINVASIVE, DRUG-FREE, AND HAS MINIMAL SIDEFFECTS. ADDITIONALLY, IT CAN BE USED MULTIPLE TIMES UNTIL THE DESIRED RESULTS ARE REACHED.