Maybe you've heard about chiropractic care through a friend or did some research online. Maybe you're just tired of living in pain. If going to the chiropractor is a new experience for you, don't worry! We're here to help you shed your pain and get back on your feet.
Your first visit to Altmedical Clinic will be about getting to know Dr. Yadira Santiago and our team, and a chance for us to get to know you! Devany and Elizabeth will guide through your first visit, giving a tour of our facilities and ready to answer any questions that you have in relation to your paperwork.
New Patients Process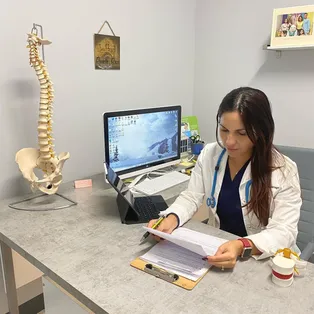 Appointments at our office typically begin with a bit of paperwork, as you no doubt would expect. Dr. Yadira Santiago will perform a physical examination, evaluation and take any necessary x­-rays to learn more about the cause of your pain. For neuropathy patients, doctor will perform a sensory test to analyze the severity of the patient's condition. She will take a look at the overall results, and, together, come up with a plan of action specifically for you.
In your second visit, Dr. Santiago will talk about the type of treatment you will be receiving, any preparation necessary before beginning treatment, and when you can expect to see results. She will also discuss any lifestyle changes that may help you with your goals. As your partner in improving your health, Dr. Santiago and our team will be with you every step of the way during your treatment.
Financial and Insurance

Our practice accepts cash, check, and major credit cards. Also, we accept Blue Cross Blue Shield, United Healthcare and Medicare. Be sure to bring your ID card and the insurance card to your first visit and we will perform an insurance verification and will let you know the chiropractor coverage that you have. In case that you need additional financial options, we can make a prequalification with our third party financial institutions. You will always have an alternative in taking care of your health with us.
If you would like to make an appointment, please contact our office by phone or email.
If you would like to request an appointment online, click 'Contact Us' above. A member of our staff will follow up with you.