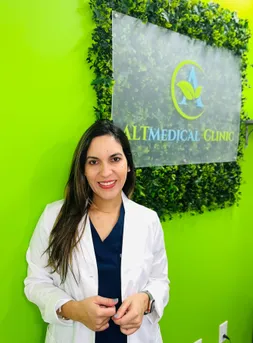 Doctor Chiropractor, Bachelor in Administration, Board Certified Neuropathy Specialist, CBP Certified
Yadira Santiago, DC, is a doctor chiropractor serving the greater Houston area at AltMedical Clinic in Houston, Texas. She's passionate about chiropractic care and is continually amazed at how the body can heal itself without medication.
Born and raised in Bayamón, Puerto Rico, Dr. Santiago, DC, earned her degree in Business Administration in Human Resources. She worked in that field for nine years before deciding her true calling was chiropractic. In 2016, she obtained her doctorate from Sherman College of Chiropractic in Boiling Springs, South Carolina. She enjoyed a successful chiropractic internship and even was honored as student of the month for her dedication to her patients. She specializes in Chiropractic BioPhysics, a tecnique that works with the rehabilitation of the spine and posture correction. Also, Dr. Santiago is a Board Certified Neuropathy and has been treating patients with this condition since 2021.
Her first office, Rewire Chiropractic, was open on 2017 in Pearland, Texas. As she expanded her practice introducing new treatments and equipments, on 2020 she decided to move to a bigger and more accessible location in Houston, Texas under the name of Altmedical Clinic. She has integrated new innovative neuropathy and knee treatments with specialized techniques helping many patients to live a better life.
Some of the things Dr. Santiago, DC, loves most about being a chiropractor are treating entire families and helping all of her patients function and live better by addressing painful symptoms. She tailors her patient care to each individual using multiple chiropractic techniques. One such treatment is Chiropractic BioPhysics®, or CBP®. It's a highly advanced practice that follows the principles of "physics applied to biology in chiropractic" to correct and restore spinal alignment. Dr. Yadira Santiago is the only one in Houston area that is certified to perform this technique with the CBP equipment available at her location. Also, Dr. Santiago, DC, met the requirements of the Board of Examiners and is certified as a specialist in Neuropathy. She is one of 1,000 providers around the county offering the innovative neuropathy treatment that is helping a lot of people to live the life they want.
When she's not treating patients, Dr. Santiago enjoys spending time with her husband, Vladimir, and three children, going fishing, visiting parks, and watching movies. Dr. Santiago, DC, is fluent in Spanish and English, and she welcomes patients from the greater Houston area to join the AltMedical Clinic family.